Fuel tank filler hose,
Fuel gauge sending unit
(Best viewed at 800x600)
Click on most pictures for a larger version
---
22-Aug-2000
Al Savage <asavage@iname.com>

I had to replace the filler hose on this '63 wagon. The Ranchero is the same under here.
| | |
| --- | --- |
| | It really leaked a lot! |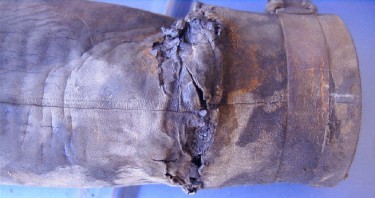 The OEM hose has about a 30° bend in it.

This shows the hose that Falcon Enterprises sold me as a replacement. It's a universal replacement solution, but they don't tell you that. This section of hose was sold as C0DZ-9047-C, for $37.50, plus shipping.


I called my local NAPA, and asked them how much 18" of hose No. 1130 (2" ID) would cost: $28. If you don't need the original, molded hose, buy it from NAPA!

I had to trim about 2" to get the right length.



This is what I had expected to receive. Formed, prebent. Live & learn!
---


The fuel gauge was anchored to "E", and the reason was the float: it had a leak and was full of gas.

You can readily get another float from any '60s Ford. My favorite is a Ford truck, because you can remove them easily: they're at the top of the tank, right behind the seat.

Mid-60's Dodge trucks use the same float. They are easy to remove, as they snap right off of the arm.


This is some of the "mud" that was in my gas tank. I removed about a gallon of solids from the tank, and that was using just a water hose and nozzle. This crud wouldn't go down the funnel, which has a 5/16 hole! This batch has been draining for 10 minutes.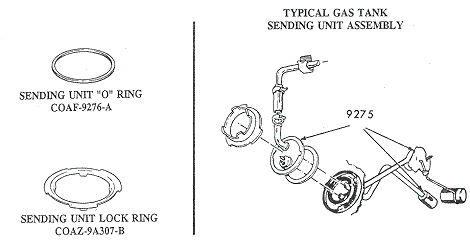 photo copyright Mac's Antique Auto Parts
retouching of sender base by A. Savage

picture courtesy Falcon Enterprises

A new float looks like this (click on picture for larger).
New ones are $7-9 from anybody. The Dearborn Classics catalog implies that these fit '60-79 Ford products.
---

We need more pics and info here; if you have some, email us using the link below.

---
Comments? Email Al
Back to the Falcon/Comet FAQ
Last updated 15-Mar-2001